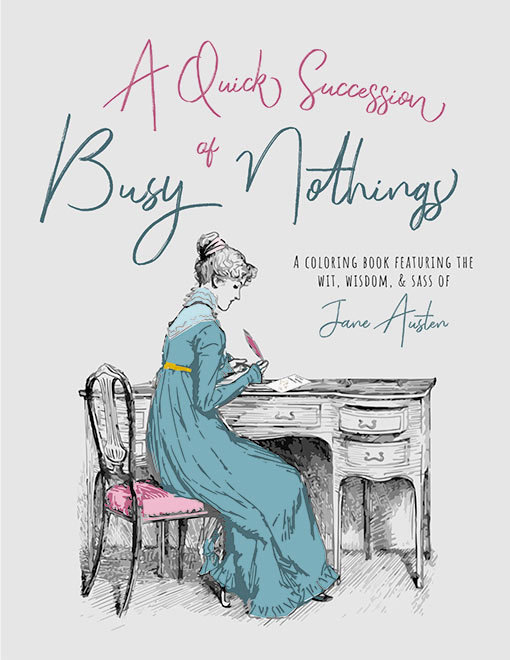 A Quick Successions of Busy Nothings: A Coloring Book Featuring the Wit, Wisdom and Sass of Jane Austen
SKU 00007
Product Details
Do you dream of dancing the night away at a ball, strolling through the British countryside, or cuddling up with a warm drink? This is the coloring book for you. With everything from cozy quotes about tea and musings on love to salty insults, you can color or paint your way to sassy serenity with the wit and wisdom of Jane Austen!

This beautiful adult coloring book features 31 pages of scenes, patterns, quotes, and themed line art inspired by Jane Austen's letters and her beloved books: Pride and Prejudice, Emma, Persuasion, Sense and Sensibility, Mansfield Park, and Northanger Abbey.
The illustrations are varied, with clean lines which are easy to fill in with pencil, marker, or a brush. The book is printed on 70lb paper which will hold up to oil, acrylic and water color.
What buyers are saying:
"What a beautiful book! The artwork looks like it came out of Jane Austen's books (some of it did!) I love this! I can't wait until my girlfriend and I get together for wine and time with Jane."
"A Quick Succession of Busy Nothings is the coloring book for anyone who finds pleasure and relaxation in the words and world of Jane Austen. Full of scenes from the novels, quotes, and lovely patterns inspired by Austen's world, A Quick Succession is a wonderful addition to the coloring library of anyone who enjoys reading, beauty, and coloring for enjoyment."
—Heather Parish, Jane Austen Society of North America, Central California Region
Save this product for later