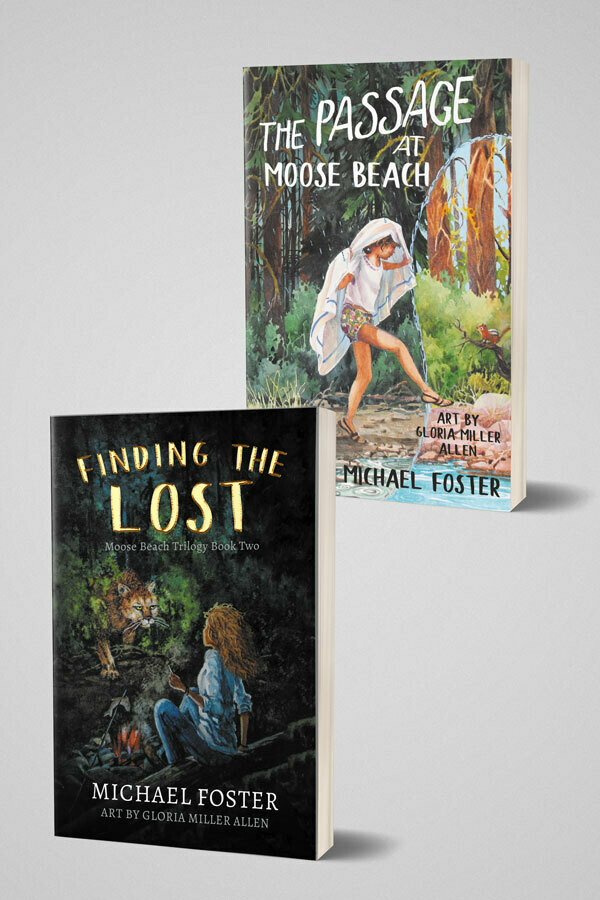 Moose Beach Collection
SKU 00073
Product Details
First two books in the Moose Beach series. Buy them in this exclusive collection and save 11% off the cover price!


Book One
Synopsis
Alicia sets out on a difficult journey to discover a way home, finding compassion and friendship along the way. Her new friends help her fight terrible foes and they come face to face with an ancient creature, huge and fearsome. These friends help each other in every way imaginable through both moments of adventure and terror. Though Alicia and her friends work together to overcome challenges and crippling fear, can they find a way to stop "The Drying" which threatens them all?
Reviews
"Foster structures his debut novel along the archetypal lines of The Wizard of Oz… Alicia goes on a dangerous journey to Gran'Tree… Alicia does come across as an intelligent, science-minded heroine for the modern era, and the story has a fresh ecological focus."
—Kirkus Reviews
"An enchantingly magical tale about finding friends in the unlikeliest of people and working together with them to achieve your wildest dreams."
—Emily, 7th Grade Student
"I absolutely loved reading the book. It felt familiar, like reading a favorite fable, or following Dorothy on her journey to Oz... it is a girl having the adventure and using her brains."
—Jo, Retired Teacher


Book Two
Synopsis
Fourteen-year-old Alicia hears a mysterious voice calling her—or was it a dream? The next day she ventures outside her family's cabin but is stunned and confused when she finds her parents frozen inside an amber bubble totally unresponsive when she bangs on the barrier and yells to them. Alicia has a gut wrenching feeling that the Wild Side, a magical and dangerous realm, is behind this. She must find mystical Ancients in the magical realm or her parents may be doomed, but can she succeed?


Reviews
"...the fact that I had finished the book made me sad, I had gotten emotionally attached to all of the characters because the book was so captivating..."
—Katrina Smith, 7th Grade Student

"…I like the plot of this sequel; it doesn't seem too forced and makes sense considering the first book. This book left me satisfied... The problem was solved sufficiently yet still left me wanting to read the next book, and the writing of Alicia's inner thoughts and general descriptions helped me to connect to the characters and the story..."
—Emily Burroughs, 8th Grade Student
"The characters come to life because they took these fictional characters and really gave them life by allowing them to talk and feel. But when you have a talking tree, some wouldn't believe that it's a real thing. But we're in the Wild Side, anything can be real."

—Briana Lopez, 7th Grade Student
Save this product for later