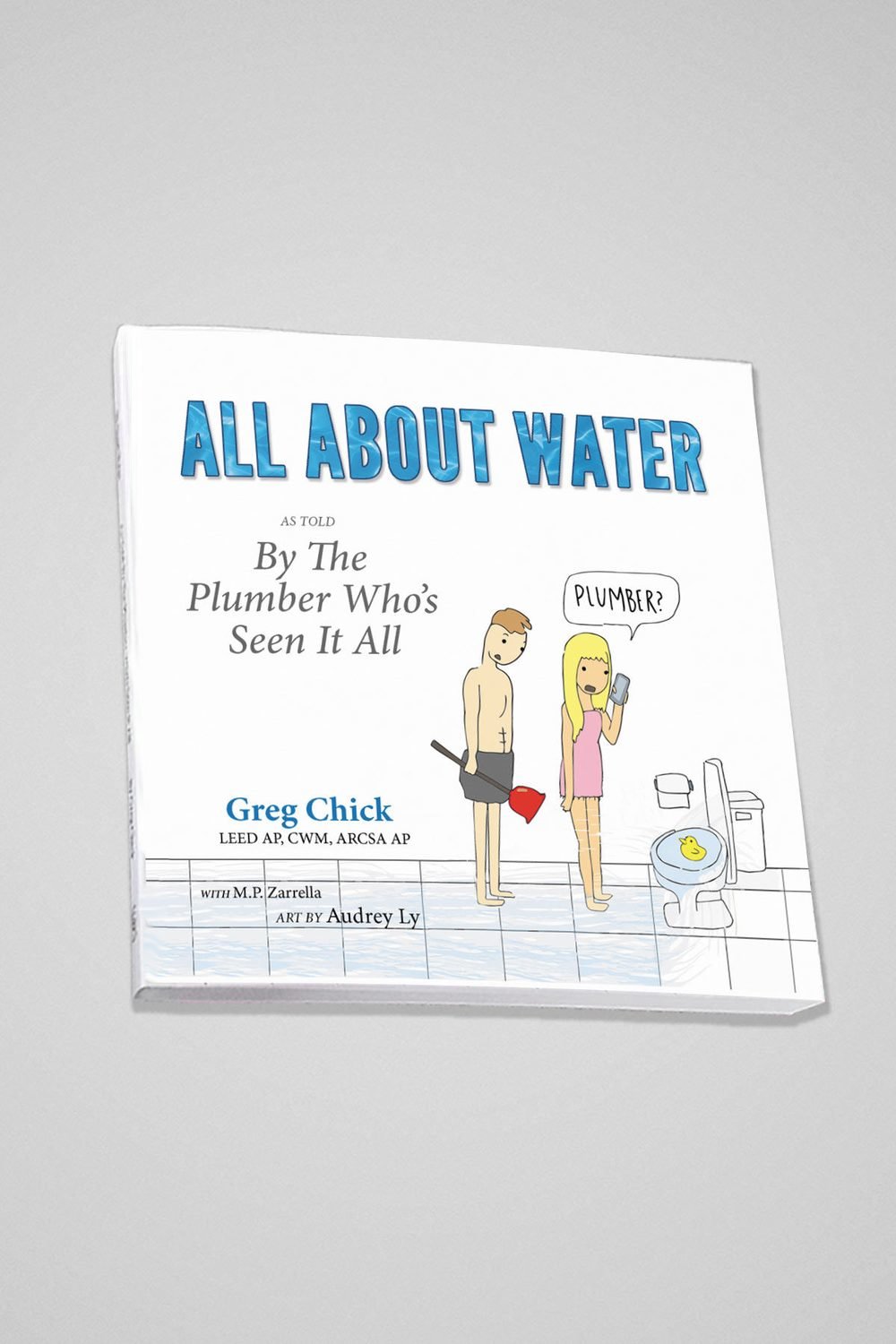 All About Water | Paperback
0001
Product Details
Independent Press Awards Distinguished Favorite
All About Water: As Told By The Plumber Who's Seen It All
By Greg Chick and M.P. Zarrella

Synopsis
All About Water is an informative, fun illustrated book that tells the complete story of water through two fictional characters, cousins Mike and Mac Ro. Mike Ro is not interested in the big picture of water, while Mac Ro advocates for planet earth and does his best to educate Mike.
Readers get a broad look into water that covers everything from efficient plumbing design to graywater reuse and how to pick the right water conditioner. Beyond practical tips, the book explores the value of water as a limited resource, touching on the importance of water conservation and the complexity of municipal water management.
All About Water is useful for the homeowner who wants to learn how to read their water bill, anyone concerned about the global water crisis, or those who fall somewhere between. This book has something for everyone!

Praise for All About Water

"All About Water" lives up to its title! For all those who have advocated for more efficient use of fine water resources, this book is an essential tool in the toolbox.
Author Greg Chick uses his 40+ year history as a Southern California plumber, including the last 10 years as the "Do-it-Yourself Plumber" on YouTube, to share personal experiences and to explore the quality, quantity, social and economic aspects of water. Not only does it help the layman understand the value and opportunity we all have with water, but it provides practical tips to help us all be more thoughtful and efficient consumers. The book is a quick and informative read that is relevant to all ages.
-Mary Eggert, Global Vice President and Chief Innovation Officer at Global Water Works
"...One thing that struck me about the book is its usefulness as a tool to teach young children about water conservation. The illustrations by Audrey Ly are fun, and young children would relate to H2Homie (the water guy), a cartoon, water drop appearing at the end of chapters with questions and facts to expand upon information. The anecdotes and illustrations throughout the book could easily be used to foster family discussions about water use and conservation awareness. Many helpful hints and facts are presented in illustrations to help children understand the importance of careful water usage.

Having read many articles on conservation, I can say this is one of the more enjoyable reads on the subject I've encountered. I appreciate the author's enthusiasm for his subject and his desire to educate his readers. It is apparent this book is a work of love. Well-written and edited, it is quite entertaining for a book of this nature. Using the characters, Mac and Mike, throughout as examples of good and bad water usage renders the information easily attainable.

I rate this book 4 out of 4 stars. I recommend it to anyone wishing to learn more about water, plumbing, and conservation. It offers valuable information and includes plenty of references and links for those seeking more. As an informative guide for families wishing to teach their children about conservation or a helpful reference in the home, All About Water delivers."

-Kat Kennedy, Official Reviewer at OnlineBookClub.org

Product Details
ISBN: 978-0-9965683-2-6

Product Details: 6.5 x 6.5 inch color paperback book

Want to order this title in bulk for your bookstore, school, organization or shop?
Save this product for later